Our workshop has continued the tradition of Nara sumi since its establishment 150 years ago.
Did you know that 95% of sumistick in Japan is made in Nara city?
Making sumistick is a traditional art of Nara, and it is said that it can be used for over 1,000 years.
At Kinkoen, we use an ancient method to provide everyone with individually, hand-made, high-quality Nara sumi.
Message
The Wonder of Japanese Culture That I Felt Once Again While Living Abroad

I lived abroad for a few years in the past, but then I came home to make sumistick, my family's business, when I was 30 years old.

The wonder I once again felt of Japanese culture while I was abroad, that I myself would take this over, came from the feeling that I rediscovered something.

In recent years, using the Gripped Sumi Experience as a way to speak with both Japanese and non-Japanese people about Japanese culture, especially calligraphy and sumi, is the one thing I enjoy more than anything else.From now and forever, I want to preserve Kinkoen as a place where everyone can casually gather and talk about these things.

Bokuen Nagano, 6th Generation Ink Artisan

The demand for solid sumi in Japanese has been going down year by year.
Even in education at schools, there are hardly any chances for students to rub sumistick.
At Kinkoen, we are working to help young people learn about the existence and wonder of sumistick, and about the traditional culture of Nara through sumistick.

Also, in recent years many people come to Japan to passionately study and experience Japanese culture.
Kinkoen feels a daily devotion to help spread this traditional culture of Nara, not just in Japan, but across borders and around the world.

Atushi Nagano, 7th Generation Ink Artisan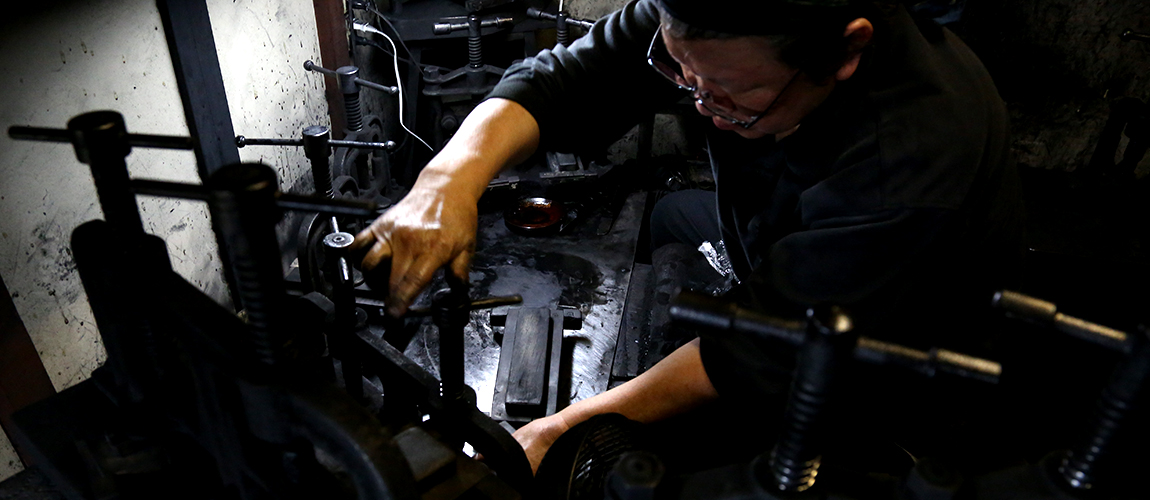 Introduction to the Workshop
The workshop is in the center of Nara City, surrounded by many historical buildings.
The workshop is located in a quiet, residential neighborhood in the heart of Nara, near both JR Nara Station and Kintetsu Nara Station, where the scents of good, old Japan remain today.
There are many historical buildings, beginning with Nara-machi, and including Nara Park, Todaiji Temple, and Kofukuji Temple.
In addition to sharing the traditional method of producing sumi, at the Kinkoen workshop we meet people from Japan and the rest of the world,
and continue to spread the wonder of sumi through the Gripped Sumi Experience in our workshop.
Our workshop also sells sumistick, so please feel free to stop by if you are in the neighborhood.
Production Process
Here we will explain how we produce our soot sumistick, which is what we mostly make in our workshop.
If sumistick is produced during a warm period, the gelatin inside the sumistick rots, so we avoid this by producing ink between October and May.
The best sumistick is made during the coldest period of the year, around February.
01 Soot Removal

"Removing the soot from the lid of pot"

Pour vegetable oil or sesame oil into an earthenware pot called a "kawarage", add the flame to the oil, and remove the soot that has develops on the lid.

02 Gelatin Solution, Ingredient Stirring

"Add the water and gelatin, and broil it with hot water while stirring for about 4 hours to make the gelatin solution."

In order to melt the animal gelatin evenly at a set temperature, we put the water and gelatin into an iron pot called a "tampo", and put that iron pot into the broiling hot water.
We stir this for 4 hours to make the gelatin solution. After that, we whip the soot, spices, and gelatin solution together, and knead it with a roller.
We also step on it with our feet or knead it with our hands to creat the raw ink.

03 Wooden Pattern, Pattern Molding

"Adding the raw ink to a pattern of a character or figure, made from the wood of a pear tree."

The block of sumistick has a weight of 15g as a final product, but since there is still water in it when we mold it into the wooden pattern, we need to use 26g of sumi to make it.
Here, we lighten the raw ink to add it to the wooden pattern, which has a fixed size.
It is important to knead the raw ink in 12 parts to make sure no air gets in.

04 Ash Drying

"Gradually dry the raw ink over 1 week for a small size and 3~5 weeks for a large size."

To remove the water after taking the raw ink out of the wooden pattern, we wrap it in newspapers, bury it in wood ash with a small amount of water, and rebury it in gradually drier wood ash.
This wood ash drying continues for 1 week for a small size and 3~5 weeks for a large size.
Cracks develop if it is dried naturally (and therefore too quickly), so we use this method to gradually remove the water.

05 Natural Drying

"Naturally dry a small size for an additional 3 months, a large size for an additional 6 months."

When 60~70% of the water is removed, we move on from drying with wood ash to naturally drying, about 3 months for a small size and about 6 months for a large size.

06 Polishing

"Paint on the glaze, scorch it with charcoal, and polish it with a clam shell."

With the ink naturally dried, we wash it with water to remove any ash, etc. from the surface.
Then, after painting on the glaze, we quickly scorch it with charcoal, and then polish it with a clam shell.

07 Color

"Color can be added to the pattern by using gold, silver, or other colors of powder."

In order to remove the water after the polished ink has been washed, we place it in criss-crossed stacks for three days to a week and let it air dry.
Then we add gold, silver, or other colors of powder to the character or figure to give it some color.